A minimal way of individualizing exams is to watermark them with the students username.
This allows tracing of any (naively) published exam back to the student who published it. It also allows you to know the precise time and IP address of each access or attempted access to each student's exam.
To use this script, you need to provide 2 files in your own top-level exams folder: a PDF and your class roster.
Assuming you have already executed the "use python3" command either manually or automatically via your .bash_aliases, all you have to do is:

watermark exam.pdf roster.csv

where

exam.pdf - is the PDF of which watermarked copies will be made

roster.csv - is a csv file with a roster of students containing
        at least the following columns. (Other columns may be present if desired.)

        either "email" or "ubit"
                where email data is like "ringland@buffalo.edu" (must be @buffalo.edu)
                and "ubit" data is like "ringland"

        "PIN"
                which is an alphanumeric PIN that will be appended to the username
                in the names of the generated watermarked pdfs.

Optionally, you customize in a number of ways.
You can add a hexadecimal RGB color specification like this:

watermark exam.pdf roster.csv 

color

=

ffb0ff

to specify the page background color. A distinctive color like 00ffff will make life much easier for exam proctors.
The watermarked pdfs will be put in a folder whose name is the input pdf name with the ".pdf" extension removed, and a random string appended to make it unguessable. This folder will be created if it does not exist.
Other options for the watermark script are:
choose your own password of 1 to 12 alphanumeric characters, BUT LETTERS MUST BE UPPERCASE:

watermark foo.pdf roster.csv 

color

=

00ffff 

password

=

MYOWNWORD3

choose the darkness of the watermark (between 0 for invisible and 1 for totally black)

watermark foo.pdf roster.csv 

color

=

ff00ff 

markdark

=

0



These optional arguments (color=, password=, markdark=) can be supplied in any combination and in any order.
Instructors should note that the watermark layer is underneath the question text layer, so elements in your source document with an opaque background will mask the watermark.
Here is what a sample run looks like:

$ watermark pseudo-exam8.pdf 411_fake_roster.csv
Using fpdf for watermark creation
Using PyPDF2 for merging
['/usr/local/bin/watermark', 'pseudo-exam8.pdf', '411_fake_roster.csv']
Background color (255, 255, 0)
Watermark color (237, 237, 0)
Locking down pseudo-exam8.pdf
Locking down 411_fake_roster.csv
Added entry for this exam to lookup table
Watermarked pdfs will be in pseudo-exam8_f55272aee
Creating pdfs
        badzioch
        hassard
        jjfaran
        ringland


URL: https://exams.math.buffalo.edu

Password: PWQZET

The universal portal page https://exams.math.buffalo.edu is where students will go to obtain their individualized PDF with the exam questions by entering their username, PIN, and exam password: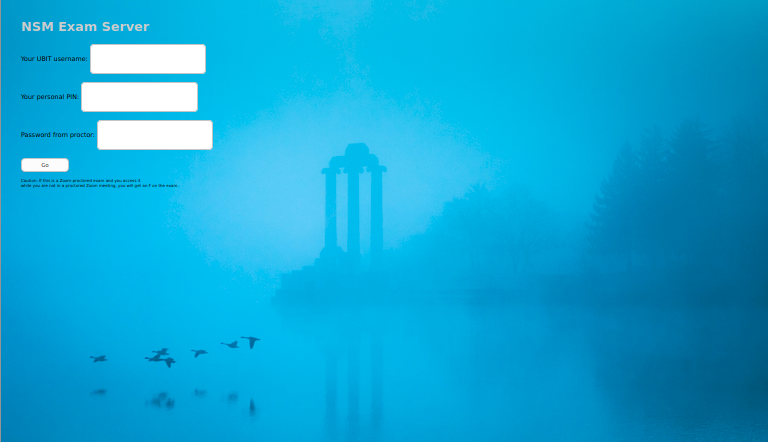 If they enter invalid data, they will be bounced back to a similar page that has a predominantly yellow photo of the same scene.
For experts: "watermark" is a symbolic link in /usr/local/bin to the Python script /htdocs/www/exams_nsm/ringland/watermark.py.